Are you an avid angler, searching for a way to get away from the hard tackle boxes that you have tipped over, or grabbed the wrong one on occasion?‌‌
Look no further! In this article, we'll explore the top options for the best tackle bags, and we will explain their designs that overcome the common issues with hard tackle boxes.‌‌
From ultra-lightweight yet durable materials to high-tech storage solutions, we'll discuss the essentials to find the perfect tackle bag for your next fishing trip.‌‌ We'll break down all the important elements so you can compare and choose the right bag for the job. From size to price, materials, and more – we'll make sure you're ready to reel in a great purchase!‌‌
So grab your old tackle box and join us on this journey as we explore the Best Fishing Tackle Bags that will work the best for you.
How Validated Views identifies the Best Products
‌‌Are you looking for a Fishing Tackle Solution, but feeling overwhelmed by all the different options available?
Don't worry - Validated Views has done the hard work for you! Our expert reviewers have carefully reviewed and selected only the best products that fit your needs. Save time, money, and effort in finding the perfect bag for your fishing trip - we've got you covered! Get a great tackle bag today and prepare for your next angling adventure.
ValidatedViews.com utilizes the Amazon Services LLC Associates Program, a program designed to provide a way for websites like us to earn advertising revenues by advertising and linking to Amazon.com and affiliated sites at no cost to you.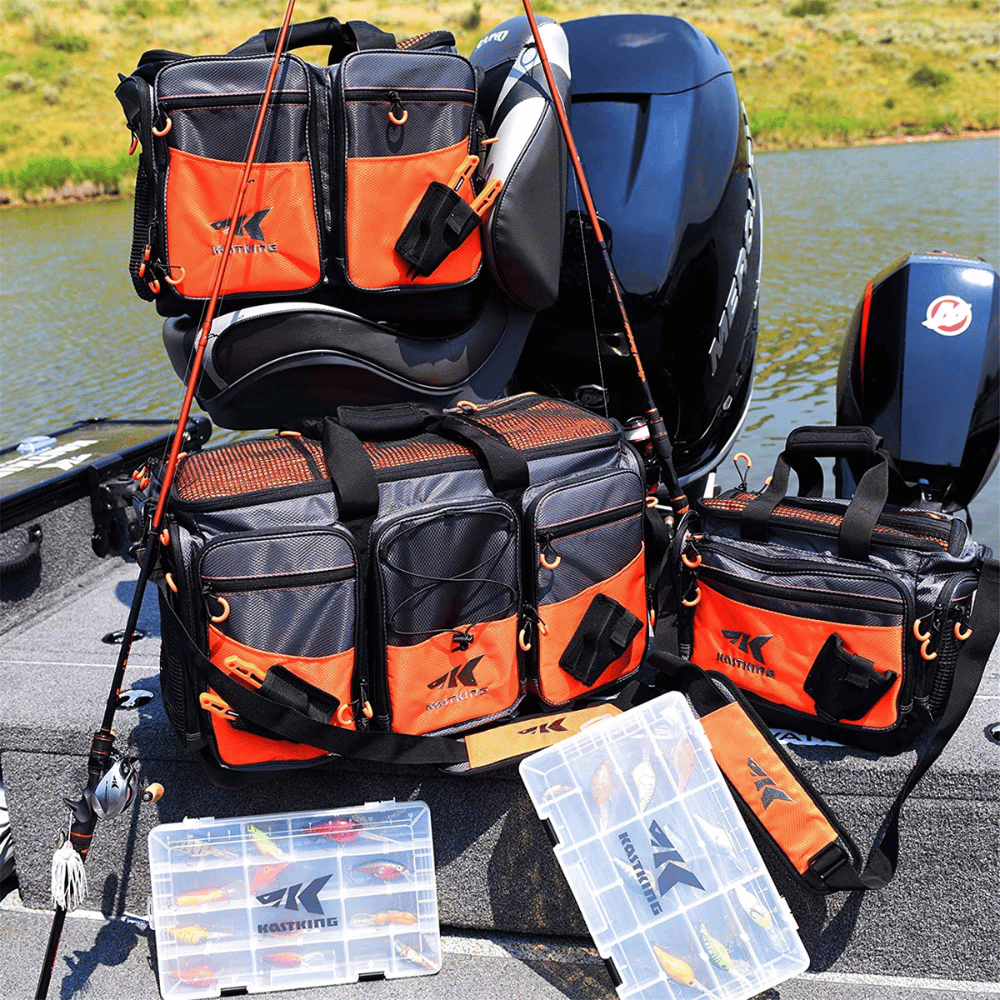 KastKing Fishing Tackle Bags - Saltwater Resistant Fishing Bags
Best for Boat Fishing Trips
Check Price on Amazon
‌‌Why It Caught Our Attention
‌‌If you're an avid fisherman looking for a great carry tackle bag so you can always stay prepared, look no further than one of these three KastKing Fishing Tackle Bags!
Featuring a functional design with double molded tool holders and tough 420D rip-stop nylon construction that is saltwater resistant, this bag is ready for whatever your next angling adventure throws your way!  Use it ashore, or especially for boating.
It also features rubber-coated mesh pockets for quick access to your tools and multiple external slip and loop-handled zippered pockets to store all of your line spools, leader lines, baits, and terminal tackle.
Best of all, you can order standard 3600 or 3700 size lure boxes that best fit your needs - so no more worrying about them arriving damaged! Get the KastKing bags in three sizes and colors, and you'll be sure to impress even the most experienced fishermen. Happy fishing!
A Summary View
Each bag is constructed from tough, water-resistant 420D rip-stop nylon, ensuring it can withstand even the harshest conditions. The zippers are resilient and self-healing, so you won't have to worry about them coming apart during your trip.‌‌
Best of all, these bags come in three colors for easy identification and organization - ensuring you can quickly access your tackle at a moment's notice.‌‌ With KastKing products like these bags, you can rest assured that your tackle and tools are safely stored away and ready to be used during a fast bite or when you need to change tactics.‌‌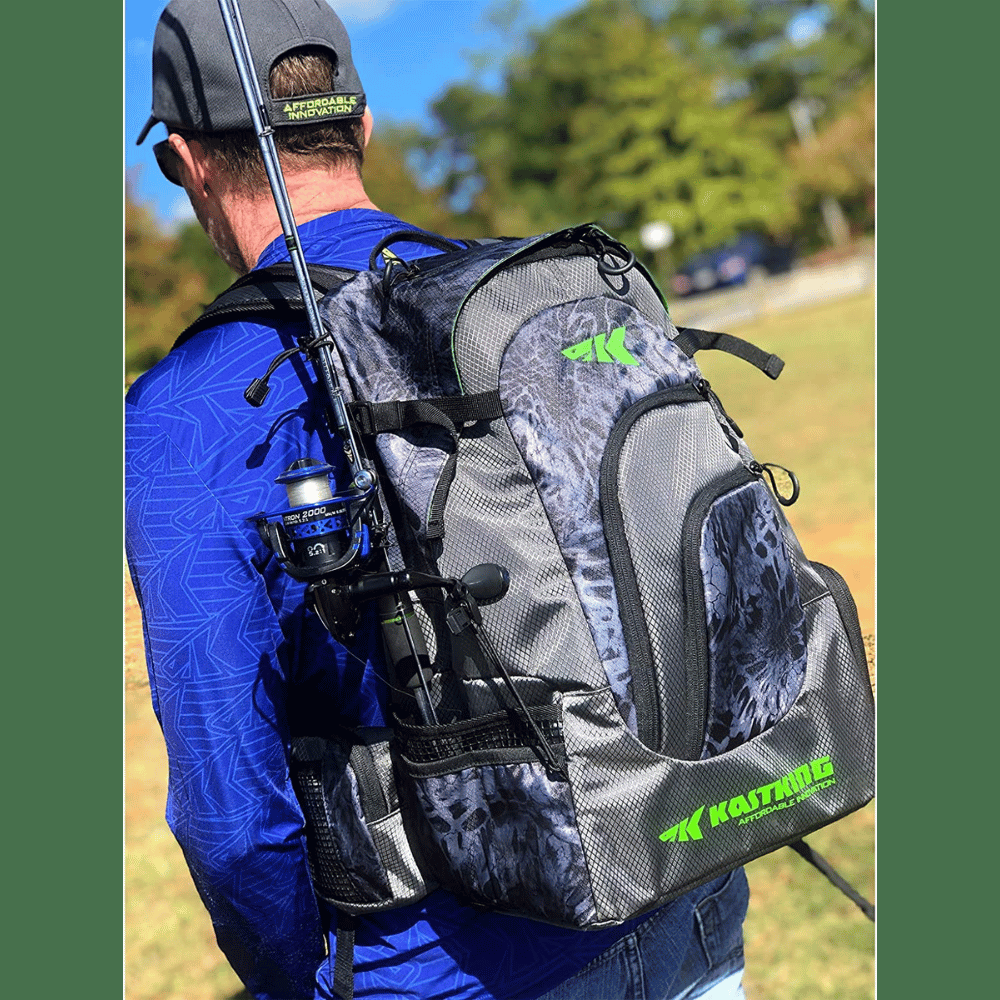 KastKing Fishing Tackle Backpack
Best for Backpacking to an Isolated Lake, Pond, or Stream
Check Price on Amazon
Why It Caught Our Attention
‌‌You just found out about a spot on a backwater creek yielding some big Brown trout. Get tackled up fast with your creek fishing boxes and hit the stream with the best fishing tackle backpack around!‌‌
This bad boy has everything you need to organize your lures, fishing rigs, and other gear like a pro. Mount your rods into the rod holder and throw the bag on your back. Now that's versatile!‌‌
So, if you're looking for the ultimate fishing backpack for your next angling mission, look no further than the KastKing Day Tripper Tackle Backpack. You won't be disappointed. Get yours today and experience the best!‌‌
Light Weight & Long Lasting – The backpack is constructed with durable rip-stop 420D Nylon material with a fantastic configuration of features to get you on the trail with everything you need.
A Summary View‌‌
Bags to carry your fishing tackle come in all shapes and sizes, but the KastKing Fishing Tackle Backpack is an excellent option for those who like to take their fishing gear with them on hikes or long walks.
The backpack is designed to hold 4-3600 series lure boxes, and there is a fleece-lined sunglasses compartment and two tie-down configurations for your rods. The upper interior compartment can be converted into a full-length backpack by removing the lure boxes and slipping the divider aside.
There are also padded hip support straps configured with pockets and Molle system straps. The waist belt is not removable but relieves shoulder and neck strain. All external compartments are fitted with amazing self-healing loop-handled zipper closures. You will not have to be concerned with zipper failures making your bag useless. Open them and close them and they are healed.
This fishing backpack from KastKing provides both convenience and storage, making it the perfect companion for any fishing trip.‌‌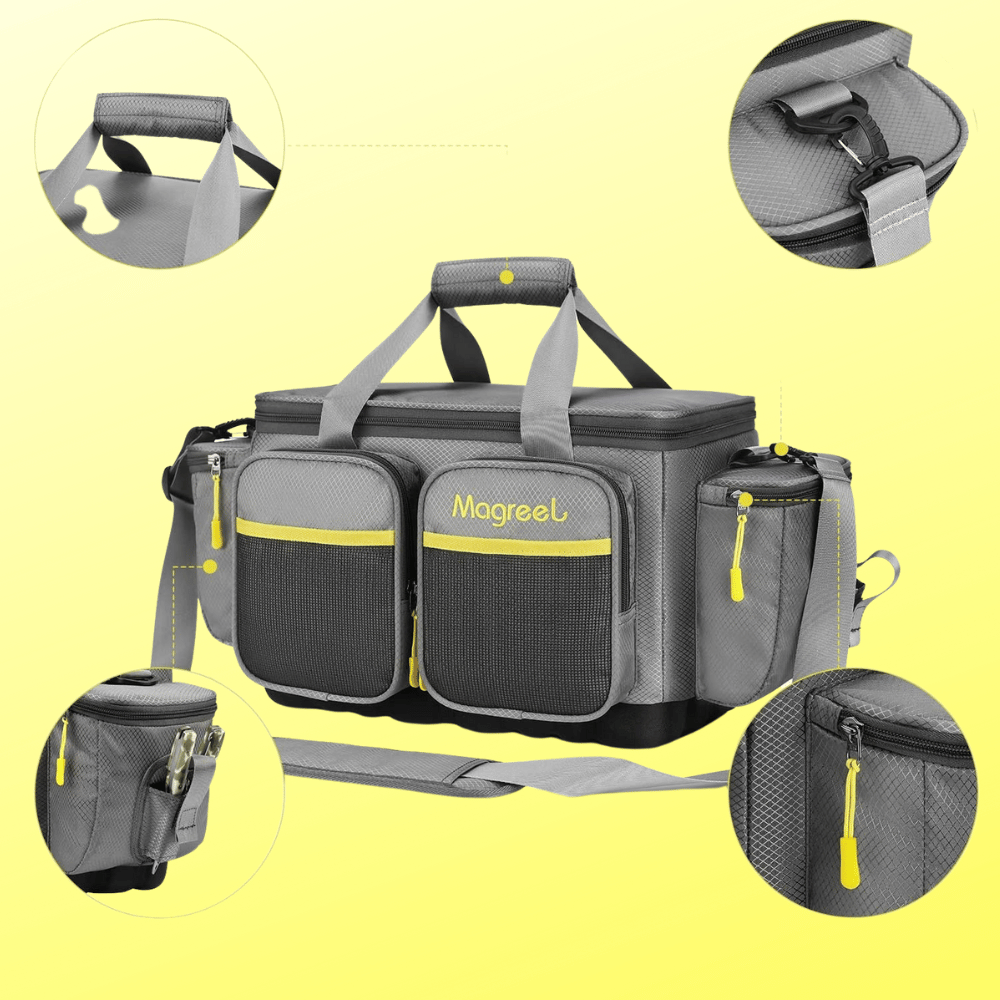 Magreel Fishing Tackle Bag
Highly rated, Easy Carry Economical Tackle Bag
Check Price on Amazon
Why It Caught Our Attention
The Magreel Fishing Tackle Bag is perfect for anglers who like to be prepared for any fishing situation. This is a tough, water-resistant bag that can hold four 3700 or 3600 transparent fishing boxes, depending on your size selection.
The external storage pockets are perfect for holding gear accessories, bait, tongs, and extra fishing terminal tackle. The internal PVC pocket linings can be used to protect your keys, wallet, and mobile phone from getting wet.
This Magreel bag is highly rated by verified purchasers and is considered the best-value purchase in its category. This is a great bag for anyone who loves to go fishing but hates lugging around multiple tackle boxes.‌‌
A Summary View‌‌
The Magreel bag is a great option for those looking for an efficient and well-organized way to store their tackle. The bottom of the bag is made of HDPE, which is wear-resistant and non-slip. The waterproof layer inside the bottom prevents water penetration into the bag, making it ideal for those who often fish in wet environments.
Additionally, the comfortable wear-resistant handle and shoulder strap make it easy to carry, even when filled with gear. The bag also features lanyard-attached zippers for easy access to pockets and into the bag itself.
Finally, please note: the tackle containers are not included with the bag to preclude receipt of damaged products. Order boxes by size to fit your choice of bag.‌‌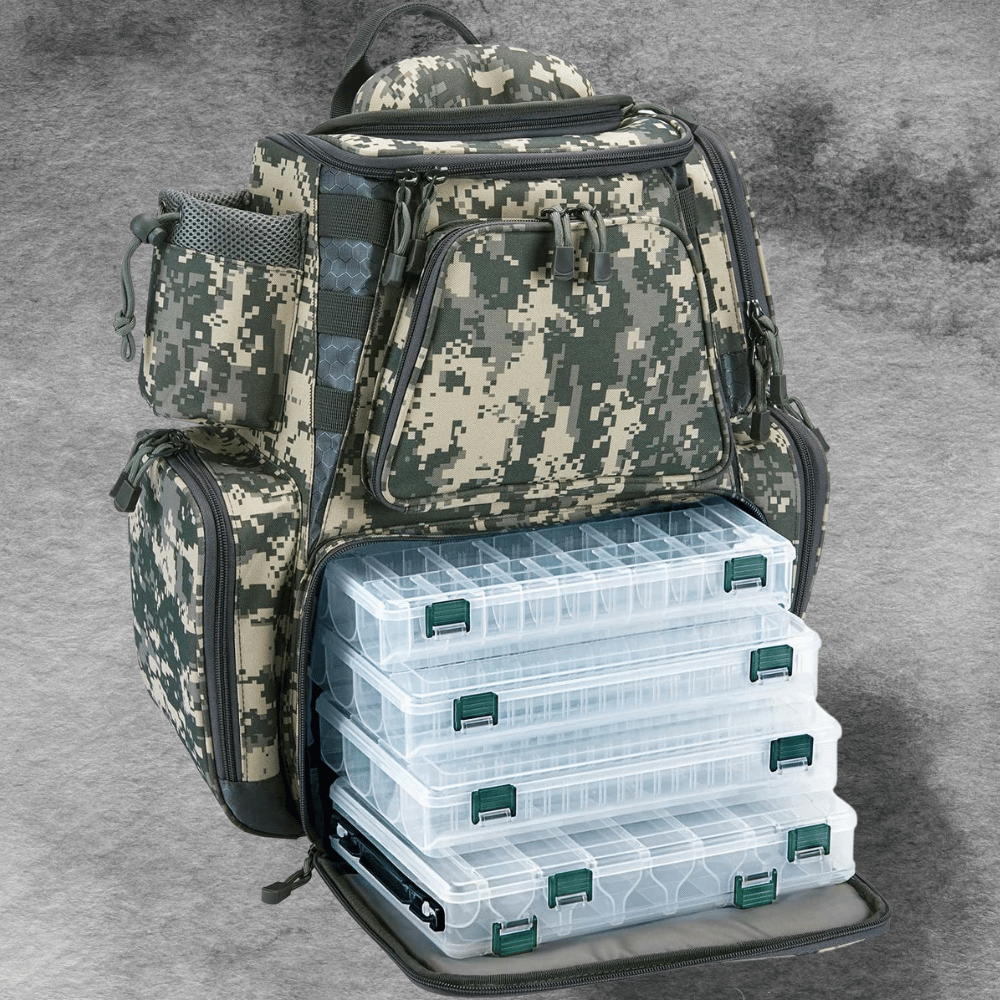 Piscifun Fishing Tackle Backpack
Unique Designs and Great Option for Shore fishing with Lures
Check Price on Amazon
Why It Caught Our Attention‌‌
Piscifun Fishing Tackle Backpack is one bad-ass fishing backpack! If you're looking for a tough and water-resistant backpack with plenty of compartments, then this is the one you want. It has a protective rain cover, hard molded sunglasses case, KAM buckles, and SBS zippers.
It's also an affordable pack, which makes it an excellent choice for anglers on a budget.
The backpack arrives with Piscifun's 4-piece set of unique lure boxes. The compartments inside the boxes are unique in their design to keep your lures dry and hooks rust-free.
The lure box size is somewhat smaller than a standard 3600-style box. But a standard 3600 style box purchased separately will fit the bag so if you need to, you can still configure your lure and tackle selection as needed for your targeted fish species.
Get ready to set up your bag with your best-suited fishing gear and tackle those fish like there's no tomorrow! With Piscifun Fishing Tackle Backpack, you're ready for an excellent fishing adventure. Get yours now!
A Summary View
The Piscifun Fishing Tackle Backpack is a highly-rated product on Amazon, with over 4000 customer reviews.  I initially found this suspicious, but after research, it became apparent that almost 100 reviewers answered questions with positive feedback on their own observations to assist other buyers. It has been a very well-received product by anglers.
It is designed for use with four double-sided trays, which are included with the backpack. The trays have air-circulating slots to help keep lures dry and rust-free. However, the boxes will not close, if you use large lures. You must purchase a quantity of 3600 series trays to fit your larger lures.
The backpack features a large main compartment. The main compartment can be extended to the entire depth of the bag. Shoulder straps are padded, but the bag does not have a removable waist belt. There is also a protective rain cover fitted into its own zippered pocket.
Frequently Asked Questions (FAQs) About The Best Fishing Tackle Bags‌‌
Are you looking for a great fishing bag, but have more questions?
Look no further! We have compiled a comprehensive list of frequently asked questions about them so that you can make your next purchase with total confidence.
Here you can get answers to your other concerns and be ready to find the best bag for all your fishing needs!‌
What makes a good fishing tackle bag?
Good bags are made with quality materials that resist deterioration caused by exposure to the elements (particularly moisture and sunlight). Salt air and water can also be a hazard to the bag.
Durable materials include such things as the stainless steel components that are made for attachment points, zippers, or frameworks if the bag is configured with any metal parts. The manufacturer should treat the Nylon or Poly materials that make up most bags with a solution for water resistance or sometimes for water-proofing.
The quality of the stitching that goes into the manufacturing process will also affect the ability to fend off water. Many reviews indicate that this is the most typical first indication of failure on new bags. Quality in sewing and the sewing materials is vital for customer satisfaction.
Size and capacity are more of a personal choice and will be utterly dependent on the species you are going after, the length of time you anticipate being in the field, and how much tackle or other items you will need to bring.
What is the difference between the 3600 series and 3700 series storage trays?
The primary difference between the two sizes of lure boxes is the length and width dimensions. A 3600 series box is typically 10.71" L x 7" W and the standard height is 1.65". The 3700 series boxes are 14" L x 9.125'' W and a standard height is about 1.75".
These sizes are nominal. You may find slight differences in box sizes from different manufacturers. Additionally, both the 3600 and 3700 series can be modified in height and compartment configurations to meet the varied needs of fishermen.
What is the largest tackle bag?
I am not sure if there is a world record for the size of the largest fishing tackle bag. I have seen military guys pack a 60-pound backpack around all day long. Who's to say those packs weren't filled with lead fishing weights and catfishing rigs?
I have heard rumors of other bags that are very large, but...
If you want a large tackle bag, look no further than the KastKing Extra Large Tackle Bag called the HAWG. I featured this bag in this article (number 1). This bag holds 12 - 3700 series boxes, and another 5 - 3600 series boxes inside the main compartment and the side pouches. The total volume is about 77 quarts of storage space. (That is bigger than the coolers most people take on a weekend camping trip).
What is the best method to organize a tackle bag?
Talk about a loaded question! You may ask what is the best way to organize a kitchen pantry closet, or, what is the best way to arrange your garage tools?Sorry for the wisecrack. Really there is no way to give you an answer here except one thing will help a lot.
Arrange your lure boxes (the 3500/3600/3700 series lure boxes so that they are set up for your targeted species. Crappie jigs and lures, or Trout, catfish, walleye, and so on. Label the boxes for each species and store them on a well-lighted cabinet shelf.
Then when you're preparing for a particular lake, stream, pond, or river, you can grab the boxes for your expected catch, and you are ready to hit the trail. Quick, easy and you are less likely to forget something.
How do you store fishing tackle at home?
After a few years of fishing and growing your private accumulation of fishing equipment, you will need to find a storage solution that fits your needs. Some people get by with a space in their bedroom closet. Many have to consider a new addition to their garage!
Your best bet is a shelf system where you can keep your tackle organized and where it can be stored in a cool to room temperature area, away from direct sunlight, and most importantly, where you can get at it without the equipment being stepped on.
I use a stackable set of clear plastic tackle trays to keep an eye on what I have available and make it easier to search for items I don't use frequently.
How do I carry lures while fishing?
Don't use your hat! That is a bad idea for a lot of reasons. If you are a fly fisherman going for Brookies, you probably will use a small zippered case with compartments for your flies.
Most other lures should be carried in a container where the two, three, or four very sharp treble hooks cannot get the opportunity to penetrate any skin or clothing.
If you are walking down the bank away from your primary equipment stash, you will find a small 3500 series plastic tackle box sufficient in most cases. Some have found soft tackle bags that are either carried over a shoulder or on a belly bag to be helpful.
If you are constantly moving and changing out lures regularly, a backpack fishing tackle setup will be the best bet. (Two of these are identified in this article.)
What should I put in my tackle bag?
Always carry a good selection of lures, jigs, and other terminal tackles sufficient for your targeted species.
Beyond that, you should consider a hook removal tool with side cutters strong enough to cut through your hooks. A pocket knife is always a good idea, and so are a flashlight, a space blanket, and a small first aid kit.
Sunglasses are also a must especially if you are fishing in more open water areas. Eyes are even more susceptible to UV damage by sunlight reflections from the water.
Finally, keep your cell phone with you, even if you turn it off. You can try to call if you need help, but more importantly, that camera can play a significant role in supporting or disproving any potential liars regarding the size of the fish they caught or didn't catch!
Should I have more than one tackle box?
Anyone who has come to enjoy fishing has found themselves needing various methods to manage their stock of fishing supplies, lures, rods, reels, and a vast mixture of various devices to improve their likelihood of catching more fish.
In the 'olden' days, this typically resulted in the purchase of more and more metal or plastic tackle boxes.
Go out and shop at your neighborhood yard sales and see how many you can find. But it is a lot less likely you will find a tackle bag at those same sales. You're as likely to find one of these as you will find a one-dollar silver coin on sale for 50 cents.
The reason is the unique utility boxes that are available to fit the needs of most fishermen. The relatively small cost of those compartmented boxes allows fishing people the opportunity to configure their equipment, be organized, and then be ready in a matter of minutes to load their tackle bag up and head out the door to their favorite body of water.
‌Final Thoughts About Fishing Tackle Bags
When it comes to finding the best fishing tackle bag, there are a few things you want to keep in mind. You'll want something big enough to store all the gear you will need for the fishing trip, but not so big that it becomes cumbersome to carry. Additionally, you'll want a bag with plenty of compartments and pockets to help organize your equipment.
And finally, make sure the material is rugged and water-resistant - after all, you don't want your tackle getting wet while you're out on the lake! We've highlighted some of our favorite fishing tackle bags for the fishermen and women in your life, each with unique features.
So whether you're looking for a small and compact option or something large and spacious, we have the perfect bag! Hit the button to select the product you want and make sure you identify the right size and colors. At the time of purchase make sure you get a quantity of suitable storage tackle trays to fit your new fishing backpack or carry bag.