Have you been considering a new pair of sunglasses for your fishing adventures?
If you're a fishing enthusiast, then you know that having the right fishing sunglasses can make all the difference. Not only should you use polarized glasses, but the frames also need to fit well and be comfortable to wear for long periods of time.  
Both the lens color as well as frame design play a role in limiting eye exposure to UV light directly from the sun, but also reflective light returning under your eyes or entering from the side of your face.
That's why we've put together this list of the best polarized fishing sunglasses for every budget. Whether you're looking for a high-end pair or something more affordable, we've got you covered.
Check out our list and find the perfect polarized glasses for your next fishing trip!
Shopping with ValidatedViews.com never comes at an additional charge! We are proud to use the Amazon Services LLC Associates Program, which allows us to generate advertising income by linking our content to external sources like Amazon.com and other affiliated sites. You can rest assured knowing you won't pay more than any other shopper when clicking through to use these recommended services.
How Our Team At ValidatedViews Chooses The Best Fishing Sunglasses For You.
It can be hard to know which polarized fishing sunglasses are the best for you. With so many different products on the market, it's difficult to know where to start.
Not only do you have to worry about finding a product that will work well for you, but you also don't want to spend unnecessary time researching or wasting your time or money on the wrong product.
ValidatedViews has taken the guesswork out of finding the best polarized fishing sunglasses for you. Our expert reviewers have spent time reviewing hundreds of reviews and manufacturers' data sheets to identify the best products for your needs. This article is for you! You can trust our team to help find the perfect pair of sunglasses for your needs so that you can get back to enjoying your day outdoors.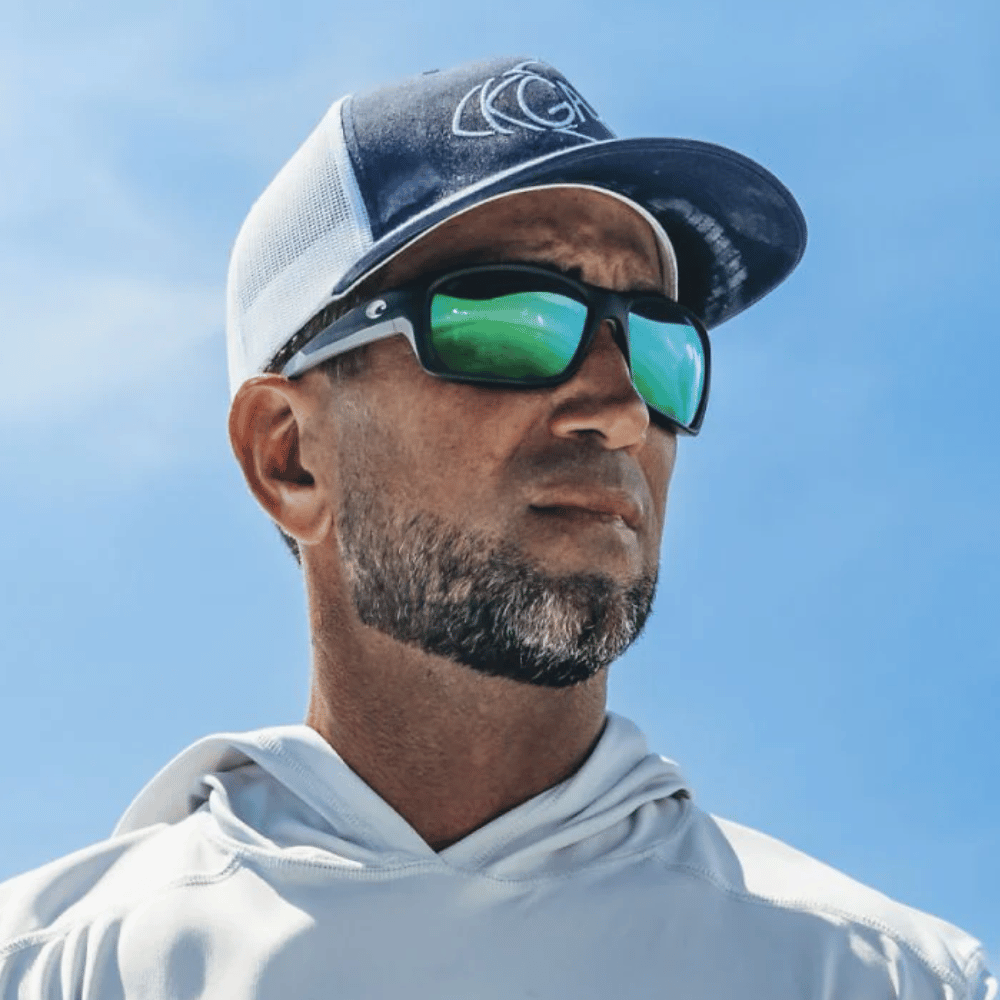 Costa Del Mar Men's Reefton Pro Rectangular Sunglasses
Sunrise Silver Mirror Color Best for Low Light Fishing
Check Price on Amazon
Why They Caught Our Attention
These sunglasses are the perfect addition to your fishing gear. The Costa brand of sunglasses was created by fishermen for fisherman and have grown to become one of the most prized tools of professionals.
The lens color on these fishing sunglasses is specifically designed for low light conditions like you find when fishing in the early morning or in the evening as the sun is laying close to the surface of the water. They are also helpful on overcast days to see into the water layers below the surface.
The high-quality crystal glass lenses are made with Costa's 580G polarization technology that blocks out glare from the sun and other light sources. Plus, the adjustable nose pads make them comfortable to wear for hours at a time.
Professional fishermen have sung these glasses' praises, calling them an essential piece of gear that they can't live without. Because of the lens construction and the quality of great reviews, these sunglasses could arguably be one of the best fishing sunglasses on the market. So if you're looking for some stylish shades that will also help you catch more fish, look no further than Costa Del Mar!
A Summary View
The Costa Del Mar Men's Reefton Pro Rectangular Sunglasses are designed with a lens width of 63 millimeters that wraps around the face, and a lens height of 44.9 millimeters to cover the face down to the cheek ridge.
There are two styles of lenses available Glass lenses are identified by Costa's 580G label. Polycarbonate lenses are labeled as 580P and will tend to be lighter in weight. The arm is 120 millimeters and will fit medium to larger faces, designed to hold the frames on your face.
These sunglasses are perfect for those who are looking for a stylish and functional option for their outdoor activities.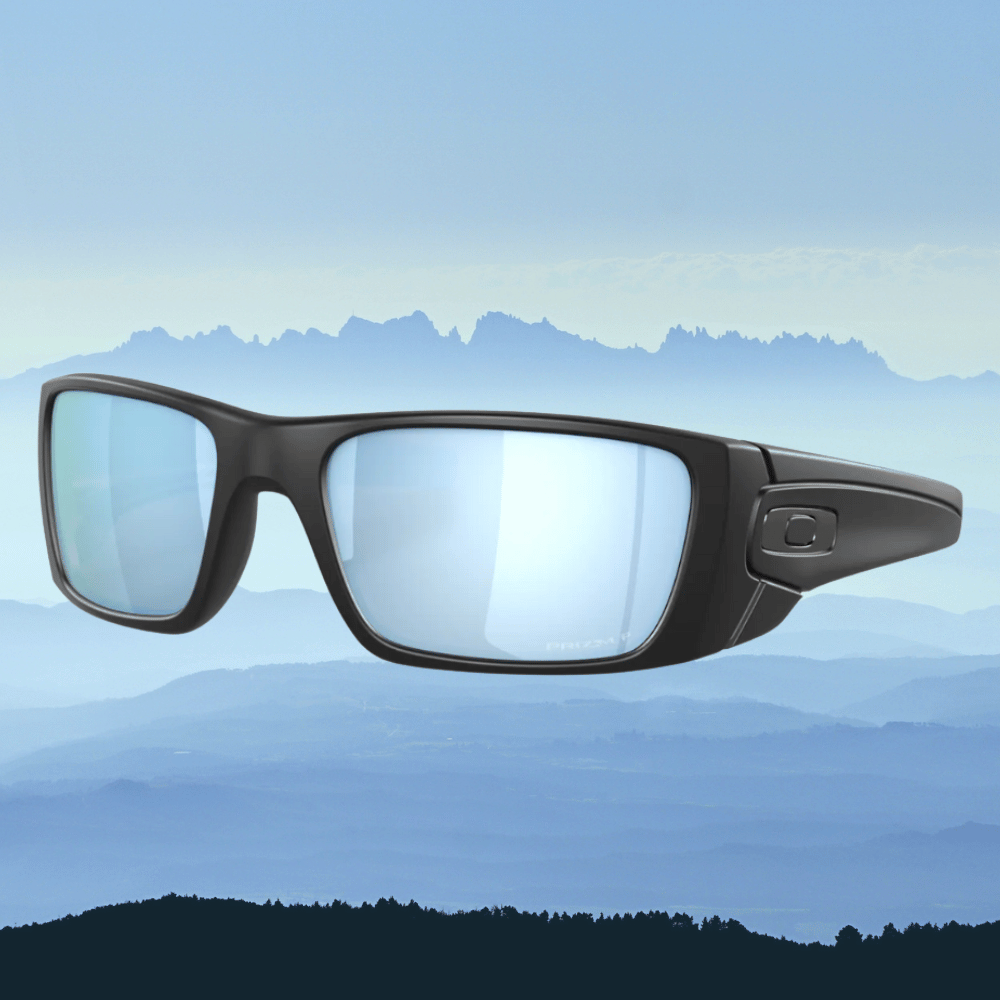 Oakley Fuel Cell 9096 Sunglasses
Customer satisfaction ratings -"Best sunglasses I've ever owned!"
Check Price on Amazon
Why They Caught Our Attention
When you need the very best eye protection while out on the water, look no further than these bad boys from Oakley.
These fishing glasses come in at a very reasonable price that won't break the bank but will perform above your normal expectations. The number of repeat buyers for these sunglasses demonstrates a very high customer satisfaction rating. They say, "This is my second pair" or customer support "is very professional".
With a style that is both clean and authentic, these sunglasses are perfect for men who love to fish.
The High-Density impact lenses provide superior protection from the sun's harmful rays, they also provide protection from possible impacts. The lenses are not glass, these are the best lenses for longer wear because they tend to be a lighter weight on your face.
The Grey Polarized lenses are perfect for bright sunny days on open water. The if you're looking for a pair of sunglasses that will let you see clearly when sight fishing or when fishing in freshwater streams, then check out the Prizm Deep Polarized lens option. These appear as blue lenses in the photos but are labeled with the description noted above.
Speaking of stream fishing, the Oakley sunglasses for fishing with the Blue Prizm Deep Polarized option are great for fly fishing.
A Summary View
Oakley is a company that is known for its sunglasses. They offer different types of sunglasses for different activities, and one of these is the Fuel Cell. When combined with polarized lenses, these are some of the best fishing sunglasses available.
Please note that Oakley only offers two colors of lenses that offer the polarized option. The Prism Deep (blue) and Grey Polarized!
This pair has a kit that includes a leash designed specifically for the frames on the Oakley Fuel Cell sunglasses. It is highly recommended that you fit the leash and test it to ensure that your glasses stay with you when you are out chasing your prey.
High-Density Polarized Lenses with Trademarked technology are available but not all Fuel Cell sunglasses are configured with polarized lenses. The ones ValidatedViews recommended are configured with polarized lenses.
If you need to contact the manufacturer they are known for their professionalism and prompt support. There is a two-year warranty on breakage.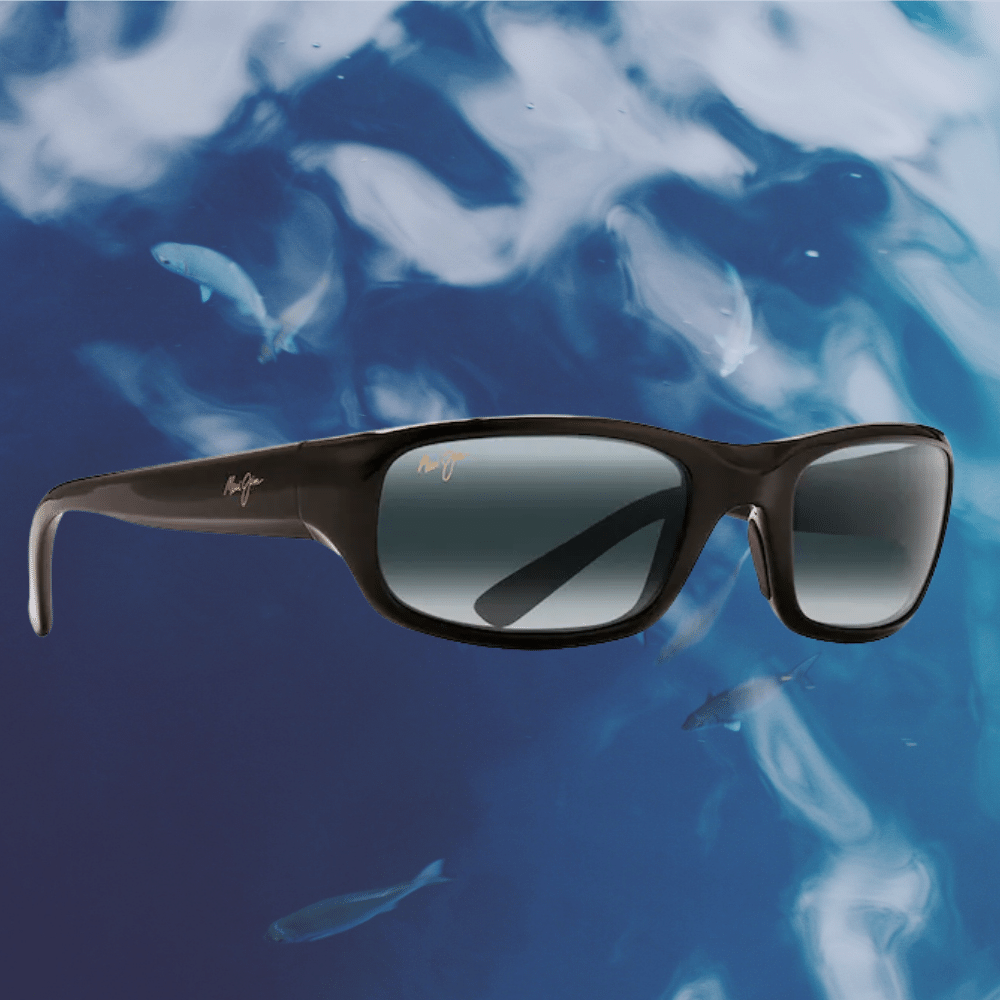 Maui Jim Stingray Rectangular Sunglasses
Best choice for Women's Polarized Sunglasses
Check Price on Amazon
Why They Caught Our Attention
Maui Jim Stingray Wrap Sunglasses are perfect for those who like to keep things subtle. With a durable frame and polarized lenses, these sunglasses can handle any activity you throw their way.
The lightweight acetate construction means you'll barely know they're there, while the enhanced colors and glare-free vision will let you take in the world around you in all its beauty.
The Stingray is ideal for most women because the narrower frame front and shorter temples fit a smaller face frame. The lenses are also narrower across the face at only 55 mm.  These are so very attractive that many reviewers describe them as " stylish, comfortable, amazingly light, ...".
A Summary View
Some reviewers indicate that they are fearful to wear the glasses out on the water for fear of losing them. Most fishermen recommend that you should purchase a leash for your sunglasses to ensure they don't go over the side of the boat. Many reviewers indicate that they have bought these before or will buy them again.
Maui Jim Stingray Rectangular Sunglasses are perfect for the woman fishermen who want's to enjoy the beauty of the world around them while shielding their eyes from harmful Ultra-Violet rays.
The gray lens configuration is best when fishing or just boating on open water during the brighter parts of the day. Both the polarized grey lenses and the bronze lenses have excellent reviews for removing glare.
The lenses provide sharp and clear vision and remove glare, making these a great choice for anyone spending time on or near the water. Plus, with the stylish design, you can wear them anywhere without feeling like a fish out of water.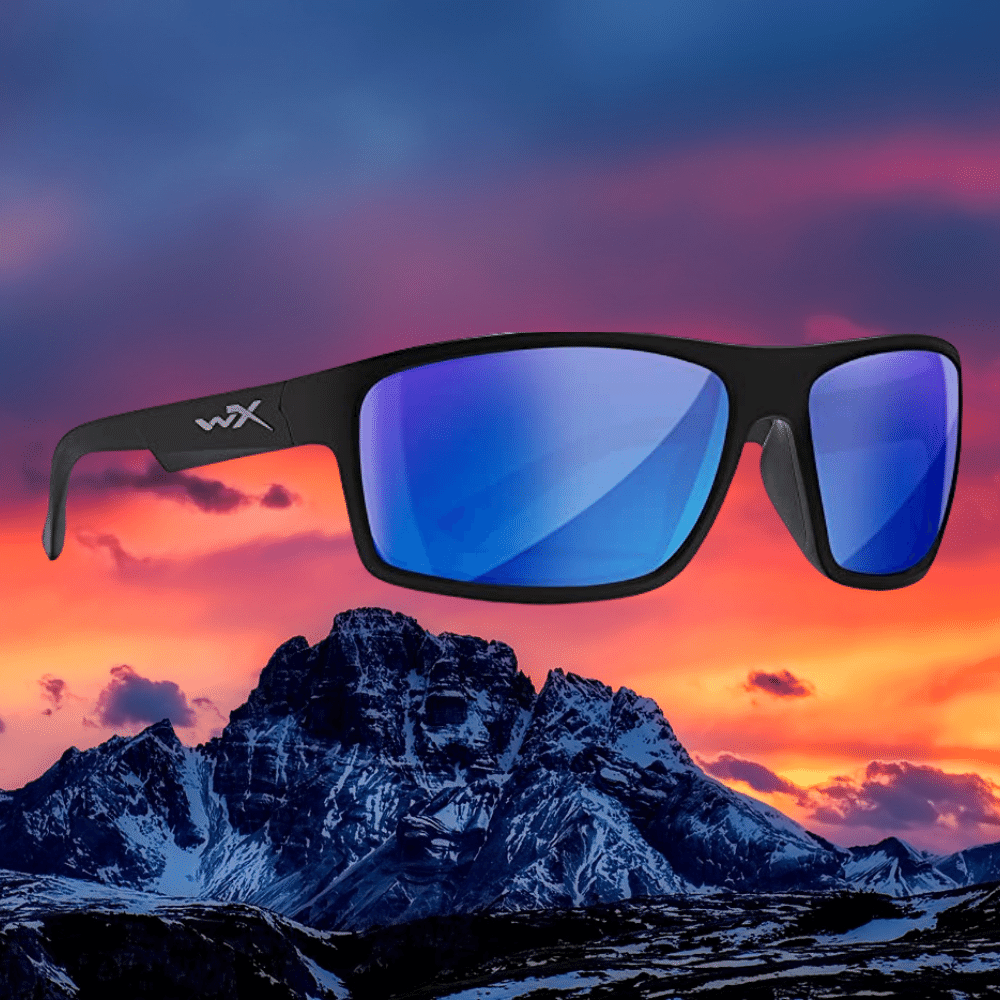 Wiley X Peak Captivate Polarized Sunglasses
Best choice for Mid-range price point for either Men or Women's Polarized Sunglasses
Check Price on Amazon
Why They Caught Our Attention
Looking for a sleek and stylish pair of polarized fishing glasses that can keep up with your active lifestyle? Look no further than the Wiley X Peak Captivate Polarized Sunglasses.
These glasses are designed with a high-wrap frame to block peripheral light and meet the ANSI Z87.1 safety standards and are perfect for athletes or anyone who likes to be outdoors.
The lenses are also treated with a mirror coating and oil and moisture-resistant topcoat to protect against any potential damage. Whether you're hitting the trails, fishing in the reeds, out at the beach, or just out running errands, these sunglasses will keep you looking good and performing your best.
A Summary View
The Wiley X Peak Captivate Polarized Sunglasses are designed with a high-wrap frame to provide the wearer with a clear view and stop any peripheral light from obscuring their vision.
The shatterproof Selenite lenses offer distortion-free clarity and enhanced color while meeting national standards for safety and clarity. The blue mirror-tinted lenses are perfect for bright sunny open water fishing.
The Wiley X Peak Captivate Sunglasses feature lightweight super tough Nylon frames.
The Selenite lenses are impact-resistant and ANSI Z87.1 certified, meaning they meet national standards for both safety and clarity. Whether you're out on the boat or hitting the beach, these sunglasses will keep you looking good and protected from the sun's harmful UV rays.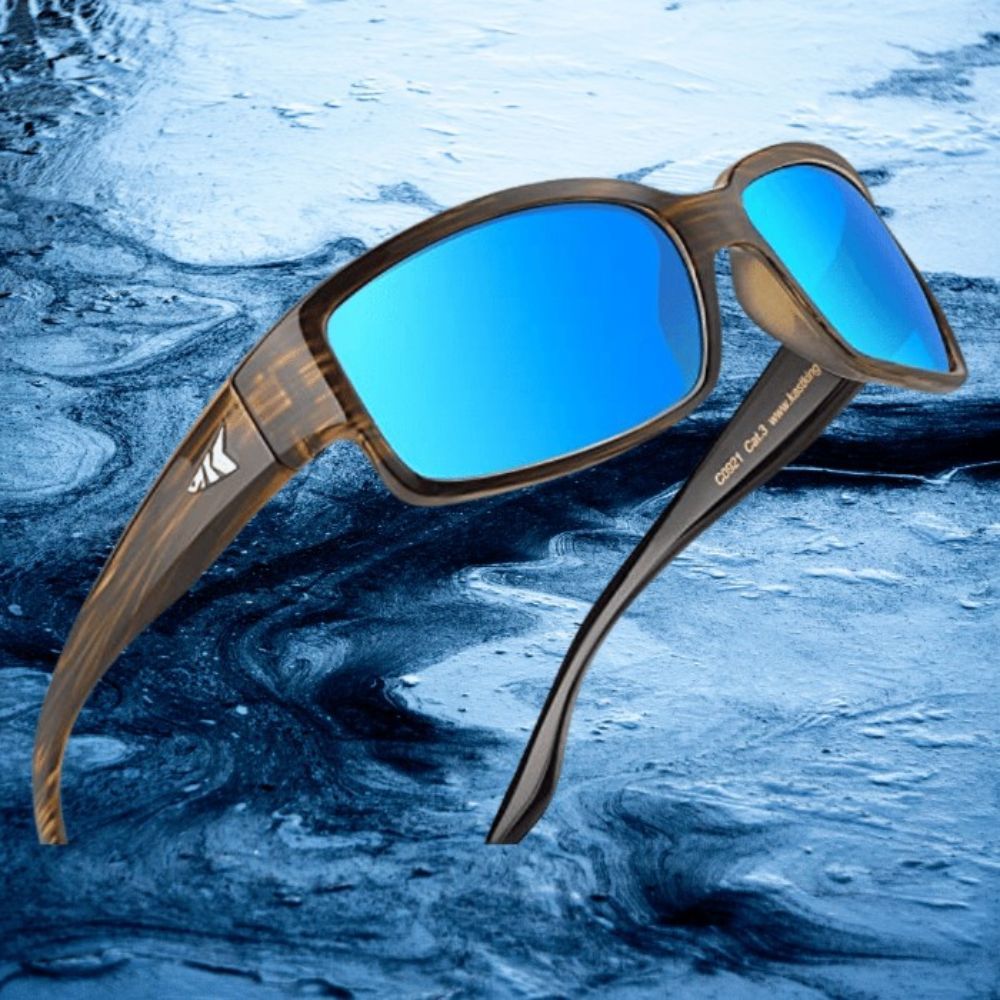 KastKing Skidaway Polarized Sport Sunglasses for Men and Women
Best choice for Tight Budget, but you still have to go fishing!
Check Price on Amazon
Why They Caught Our Attention
KastKing Skidaway sunglasses are the perfect choice for fishermen and women. The polarized lenses reduce glare and the TAC lenses protect your eyes from flying objects.
The Grilamid (unique to KastKing) frames are lightweight, durable, and comfortable. Plus, they include molded hard case and microfiber pouch to keep your sunglasses safe and clean.
There are multiple color lens variations available that have polarized lenses and several different frame colors.
KastKing as a company prides itself on the quality and performance of every product they sell. No difference here with their sunglasses. In spite of the low price of these sunglasses, you will find they perform well and will meet your expectations.
A Summary View

KastKing Skidaway Polarized Sport Sunglasses are perfect for anyone who wants high-quality eyewear without breaking the bank. The lenses are 1.0mm thick, polarized, and comparable to those on much more expensive glasses.
The frames are made of Grilamid, a material known for its strength, lightweight comfort, shape integrity, and impact resistance. The lenses also block 100% of the harmful UVA and UVB rays. In addition, the sunglasses are very comfortable to wear and extremely durable.
Make sure you review the Color comparison charts at the link for specific guidelines on color and application.
Best Polarized Fishing Sunglasses FAQ:
It can be tough to know which pair of sunglasses are the best for fishing. If you have considered buying polarized fishing sunglasses, these questions may have also crossed your mind.
With all of the different brands and styles on the market, it's hard to know which pair of fishing sunglasses will give you the best protection from the sun's harmful rays and give you the best experience while fishing.
We've created a list of Frequently Asked Questions about the Best Fishing Sunglasses to help make your decision easier. By answering these questions, you'll be able to find the perfect pair for your needs.
What color lens is best for fishing?
Polarized sunglasses are a fisherman's best friend. The best fishing sunglasses reduce glare, allowing you to see below the surface of the water and spot fish more efficiently. Not all polarized sunglasses are created equal, though. Specific lens colors are better for fishing than others.
Blue and green polarized lenses are ideal for fishing because they enhance the contrast between objects in the water. The polarization removes the glare from the surface and the color provides contrast. This makes it easier to see baitfish, lures, and other underwater objects.
Gray lenses with polarization provide better eye protection on the brightest of days on open water. This lens color will typically give you the best UV protection against UVA and UVB sun rays.
Sunglasses with a yellow-tinted polarized lens color will typically brighten the view and are best used for low-light fishing conditions.
If you're looking to buy sunglasses for fishing, make sure to choose lenses that are blue or green polarized.
What are the best sunglasses for seeing fish in the water?
Sunglasses are often considered a fashion statement, but their original purpose was to protect the eyes from the sun's glare. While many sunglasses are designed to protect the eyes from the sun, some are designed specifically for fishing. When choosing sunglasses for fishing, you want to find sunglasses that offer good peripheral vision and color definition.
There are a few different types of fishing sunglasses that are best for seeing fish in the water. For example, polarized lenses are effective at reducing glare and allowing anglers to see beneath the surface of the water when sight fishing. In addition, yellow-tinted lenses can help increase contrast and make fish appear brighter against the darker background of the water.
In shallow water, a lens color of green or blue combined with polarized lenses will work best for spotting the fish amongst other materials below the surface.
Should I polarize or not?
There is no definitive answer to this question. Polarizing a sunglass lens can have several benefits, such as increasing contrast and reducing glare, but it can also lead to decreased sharpness and reduced brightness. Depending on the quality of the lenses, polarized lenses can make your vision somewhat blurry for reading the fine print.
Ultimately, the decision whether or not to select polarized lenses depends on the specific situation and what you are hoping to achieve. However, when it comes to fishing, polarized sunglasses work and are undoubtedly the best choice for this activity.
Do Polarized Fishing Glasses block blue light?
Studies have revealed that longer exposure to high-energy blue light can increase the amount of DNA damage, cell and tissue death, and eye damage. It makes sense if you are going to spend long hours on the water fishing that wearing the right kind of eye protection in the form of polarized lens sunglasses is a good idea.
Better quality polarized fishing glasses will typically block out high-energy blue light waves in addition to other harmful ultraviolet rays of the sun.
The color choice of your polarized lenses will also improve blue-blocking characteristics. The best colors are yellow, orange, copper, or brown lenses.
Is there a difference in polarized sunglasses for fishing?
Yes, there is a difference in polarized sunglasses for fishing. Fishing sunglasses are designed to block out the sun's glare on the water, allowing you to see beneath the surface and spot fish more easily. Standard polarized sunglasses can also be used for fishing, but they may not be as effective as specialized fishing sunglasses.
Fishing sunglasses with advanced lens technology are essential for a successful fishing trip. They protect your eyes from the sun's harmful rays and provide crystal-clear vision so you can easily spot your next catch!
Most fishing sunglasses have a special coating that makes them more reflective against light waves. This coat helps reduce glare and reflection on the water's surface, making it easier to see beneath the surface. In addition, some fishing sunglasses are fitted with amber or green lenses. These lenses help improve contrast and color recognition, making it easier to distinguish fish from their surroundings.
When should you not use polarized sunglasses?
Polarized fishing sunglasses can help reduce glare and improve contrast, making them ideal for activities like fishing, driving, or golfing.
However, they can also distort colors and make it difficult to see certain details, so they may not be suitable for all activities. For example, polarized sunglasses should not be used when reading or working on a computer screen, as they can induce eyestrain as you attempt to read printed text.
Is it worth paying more for Polarized sunglasses?
Yes, it is worth paying more for polarized sunglasses. The benefits of wearing polarized sunglasses are vast and include: reducing eye fatigue, improving contrast and visual clarity, and reducing glare. The cost of polarized sunglasses is typically more than non-polarized sunglasses, but the benefits are well worth the investment.
Additionally, cheap polarized lenses often have lenses that are not polarized in the same plane as they are manufactured. This can lead to excessive eye strain and inefficient polarization, making the sunglasses useless.
Final Thoughts About Best  Fishing Sunglasses

When it comes to fishing sunglasses, there's no need to sacrifice style for function. In fact, with the right pair of sunglasses for fishing, you can have both! We've searched high and low for the best fishing sunglasses on the market, and we think that our review has shown you the variables you should consider.
We hope you have discovered something new in this article and that you have discovered one or two selections that will meet all your needs.
Thank you for your visit today.
Click on the check price button for the sunglasses you found will work for you and it will take you directly to the product for your selection.